This is a database about the House of Night novel series by P.C. and Kristin Cast.
WARNING: This wiki reveals plot details, so read at your own risk!
House of Night is a thrillingly engaging book series that follows 16-year-old Zoey Redbird, who gets "Marked" by a vampyre tracker and begins to undergo the "Change" into an actual vampyre. She has to leave her family in Tulsa and move into the House of Night, a boarding school for other fledglings like her.
It's within the school's walls that the heart of the action takes place as Zoey meets new friends, finds love, comes to terms with how her life will be different now and begins to realize her awesome new powers.
Here's the deal though: Yes, Zoey's a vampyre now. But she's still a teenager – with all the humor, angst and confusing feelings any other teenager has.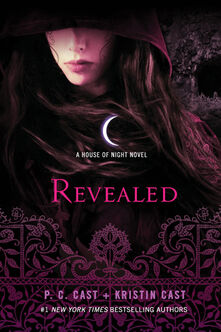 Revealed
Is the spellbinding eleventh and penultimate installment in the #1 New York Times bestselling vampyre series
Drastically altered after her fall at the end of Hidden, Neferet is now more dangerous than ever—and her quest for vengeance will wreak havoc on humans, as well as Zoey and her friends. Chaos is loosed in Tulsa and the House of Night is blamed. Can Zoey stop Neferet in time to keep her anger from escalating to full-on war? Or will someone else have to step in to take the fall?